New horizons for residential real estate

The pandemic has shaped the way we live and work, which has had an impact on the residential real estate market. But to what degree? And what does that mean for investors?
Expats first arriving to Luxembourg historically tended to locate to the capital city or surrounding locations–renting first and then, at least for those planning to stay over a longer term, trying to buy, with a preference to be as central as possible.
That's according to Julien Licheron, research fellow in urban development and mobility at the Luxembourg Institute of Socio-Economic Research (Liser), who also served as the national coordinator of the Housing Observatory from 2009 to 2018.
"But it's clear now that prices are that expensive that they also see changes, they also now try to locate in less central areas to have a house instead of a flat and to have more space," he explains.
Of course, it's impossible to speak about Luxembourg's real estate market without discussing the staggering costs where, as he puts it, "you have to envisage that you need at least €1m to buy something". But has the health pandemic impacted regional trends at all? And if so, how?
Geographical diversification
For real estate services company JLL Luxembourg, it's clear: geographical diversification in the residential market is underway, as both investors and private buyers are increasingly demanding not just on the capital's outskirts, but farther afield, particularly in the north.
Residential agency director Robby Cluyssen says that, although the core of JLL's business is commercial (offices and retail), residential is "becoming a bigger part in the near future, due to the pandemic… We saw investors, especially institutional investors, seeking some other assets–too much exposure on offices, retail parks, etc. And they saw that residential assets were quite resilient."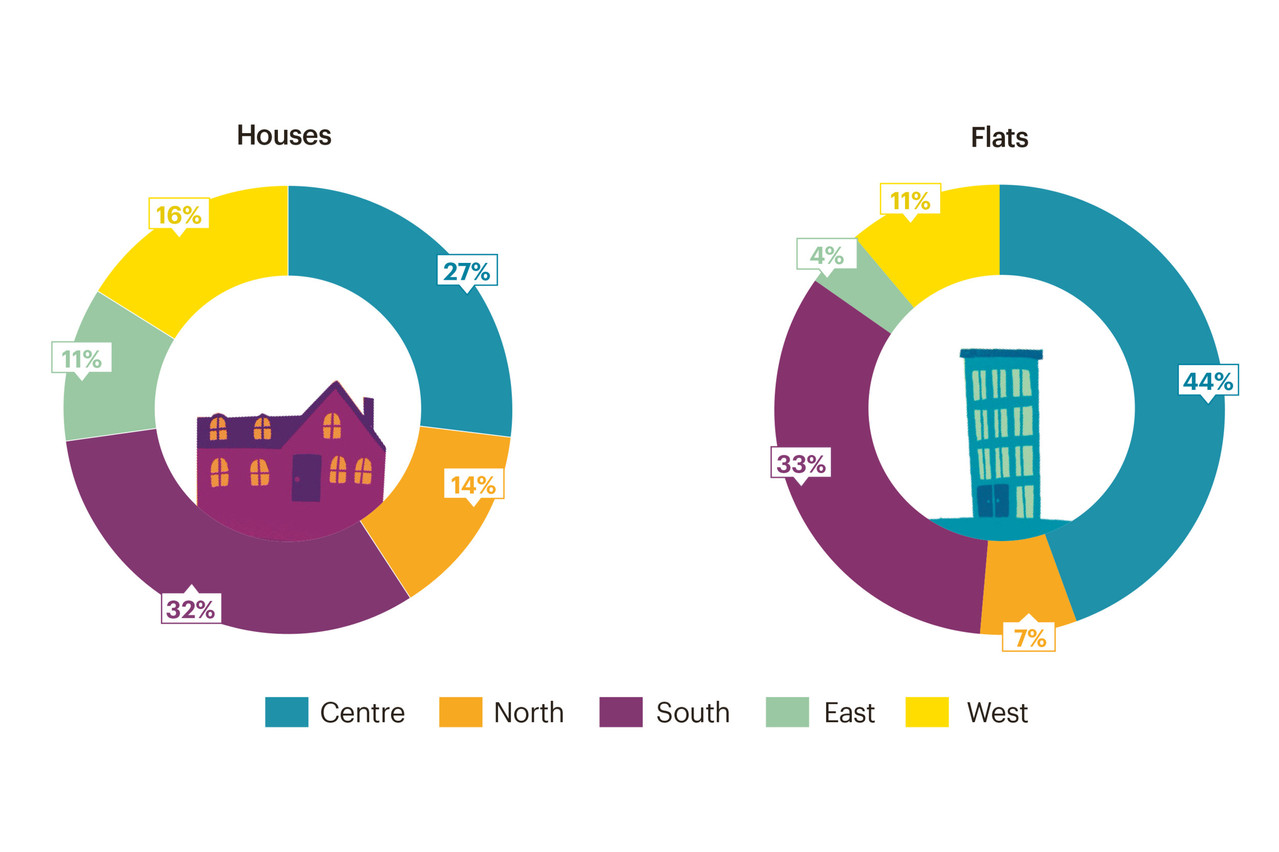 Market share per region: sales price trends for houses and flats in Luxembourg regions, March 2021-August 2021 Source: athome.lu; illustration: Maison Moderne
He's convinced that other trends emerged from the pandemic too. "Everybody needed some outside space. The balcony, the terrace were becoming more important, so developers saw this as an opportunity… this was immediately initiated during the first lockdown and continued." They thus foresaw the need for balconies or terraces, even shared areas in communal residencies.
Sarah Gomes is one such individual who opted to move to northeastern Luxem­bourg. She had formerly been living in the south, commuting to Luxembourg City for work. Recently married, she and her partner purchased in Diekirch, although they're eagerly awaiting the premises to be finalised (another result of the pandemic). For now, they're living with her partner's parents, but she doesn't mind–she can walk to her new workplace, Nordstad Entwécklungsgesellschaft, an organisation helping to facilitate development of the Nordstad. It's the less stressful commute and proximity to nature she most appreciates.
Jessica Gaspar also purchased a home during the pandemic, although not as a result of it. The Betic communication officer had previously been renting in Luxembourg City but now is a happy homeowner in Differdange. While Cluyssen says schools are a main driver for location, this was not the case for Gaspar–for her, it was cost. She and her partner were able to buy a home that checked off their boxes, which included being easily connected to the capital via public transport and having shops and services within reach.
Figures released by atHome in autumn 2021 show the north is "favoured by families and residents looking for large spaces [and] the least expensive region of the grand duchy". The south is slightly trailing the centre in terms of number of ads, "explained by lower prices than those found in the centre of the country, and by municipalities that appeal to residents: Differdange, Pétange and Esch-sur-Alzette."
"Luxembourg remains the engine", but…
JLL observes that buyers are indeed attracted not just by the better prices outside of Luxembourg City, but also due to the larger housing surface areas. The difference between the national average and the capital average selling prices, in fact, has increased over the last decade, "a development which is accentuated in 2021". This difference equates to €3,765/m2 that year, compared to €835/m2 a decade prior. For investors, it adds, a property's rate of return can also be better on the outskirts than in the centre.
This is in line with what Licheron has observed. "Prices increase[d] almost everywhere in the country–not only in Luxembourg City, but also in the surrounding municipalities and in the northern and eastern part of the country."
But he adds that the pandemic isn't necessarily driving that change–"it was already something we were able to see just a bit before, perhaps in 2018-19."
Inowai CEO Jean-Nicolas Montrieux says the capital "remains the engine of the Luxembourgish real estate market", adding that for employees coming to Luxembourg for work, "they are more attracted by capital cities… it's a trend from 30 years ago, and it will not stop in the coming years, despite the pandemic."
He believes the "future is in the cities", adding that for those who are hired from other cities in Europe, "those people who have been educated, grew up in big cities, won't live in the countryside."
Even so, he adds that more than half of the apartments its agency sold last year were in the southwest, around Esch-sur-Alzette. "There are a lot of shops, public services, transport, etc., and it's not far away from [Luxembourg] City," he adds.
Although he says he did see cases with people wanting to move to a larger home in the countryside during the pandemic, "I think it's not a big trend in the market. It's certainly an effect of the pandemic, [but] I think it will not change the real estate market in the coming years."
Cluyssen anticipates the north will be a "big player" in future, with projects such as "Wunne mat der Wooltz". The new district in Wiltz will span over 25ha, able to accommodate approximately 1,800 inhabitants. "That's something that's going to change the whole region," he adds. "It will be a big change and challenge, as well [for] infrastructure and providing schools, crèches, etc."
Future living
For many seeking to buy, asking prices can be staggering, and potential buyers are questioning the real value of a home.
"We should definitely look into the asset of housing," Cluyssen says. "What do we build actually? What is a house? We have so many generations, cultures living here in Luxembourg… so many differences that we should also look into the difference of how we house these people."We should definitely look into the asset of housing. What do we build actually?
Robby Cluyssen, Residential agency director, JLL Luxembourg
Co-living, for example, could be an option appealing to the expat or millennial segments. He predicts "hundreds of rooms" coming to the market over the next couple of years. Another option could be tiny houses, for which there is already a blooming community in Luxembourg. Cluyssen continues: "We've got land available. People aren't willing to sell it. Fine, don't sell it. But put it to use, get some rental income on it… build some tiny houses, each with a small garden, because that's also part of demand, and something that came from the pandemic."
For Montrieux, on the other hand, tiny homes are a "little bit touchy, because we're not going to create a 'cité ouvrière' [working-class neighbourhood]. We have to avoid making another category for people who can't live in another house."
Given how the Inowai CEO sees Luxem­bourg City as remaining the "engine of the Luxembourgish real estate market… and the workforce is growing", he tends to agree with the likes of people like Olivier Bastin, Immobel Luxembourg CEO, on the need for densification there. As Bastin proposed in a Paperjam + Delano Club event in Q4 2021, "Densification is an answer to the environmental crisis. If we move towards taller buildings, then less surface area is used."
Keeping Luxembourg attractive
But all of the interlocutors agree on one thing: improving the housing situation will be critical to keeping Luxembourg attractive. "Housing prices were probably the positive aspect of the competitiveness of the territory when we compare to Paris, London," Licheron explains. "Now it's really different because prices in Luxembourg are not that different from London or Paris." He adds that if the increase in properties doesn't stabilise–if prices increase, for example, by 13% over the next one to three years–"it will become a very important problem in terms of attractiveness."There is a big opportunity to ask the private sector with a frame[work], to deliver the dwellings the country needs."
Jean-Nicolas Montrieux, CEO , Inowai
Of course, the prices in Luxembourg impact those in parts of the greater region too. Licheron adds that Liser is trying to develop a cross-border housing observatory to better understand some of these trends.
Montrieux sees opportunity in the grand duchy, however, in getting the private sector more involved. "The Luxembourg government has worked on this topic for 10 or 15 years, and there is absolutely no result," he states–adding the caveat that it isn't necessarily because they are making bad decisions, but other avenues could and should be explored. "In my opinion, there is a big opportunity to ask the private sector with a frame[work], to deliver the dwellings the country needs. It's only this question.
Source: https://delano.lu/article/new-horizons-for-residential-r